Tummy Tuck
(Abdominoplasty)
Abdominoplasty, also known as tummy tuck surgery, is a cosmetic surgical procedure designed to tighten the abdomen and remove excessive skin and fat. The result of a tummy tuck surgery is a flatter, firmer abdominal contour that is more proportionate to a person's body type and weight.
Tummy tuck surgery is performed under a general anesthesia and takes about 2-3 hours. The most common form of a tummy tuck involves a horizontal incision near the pubic hairline, so swimwear or undergarments can hide the resulting scar. If there is excess skin above the navel, an incision around the navel may be necessary. Sometimes, the surgery involves liposuction to remove pockets of excess fat from specific areas of the abdominal region. Diastasis is a term used to describe the separation of the two-paired abdominal muscles that make up the front of the abdomen, which is often caused by multiple pregnancies. Internal sutures are used to tighten the abdominal wall, resulting in a flatter stomach. Stronger, tighter abdominal muscles may also help reduce lower back pain.
Full recovery from tummy tuck surgery takes about four to six weeks depending on the extent of the surgery. Swelling and bruising is normal after surgery. Wearing a compression garment, such as an abdominal binder, will help minimize the swelling and bruising. You should plan on taking one to two weeks off from work to recover and avoid any strenuous lifting or exercise until you are completely healed.
Tummy Tuck -> Post Surgery Scar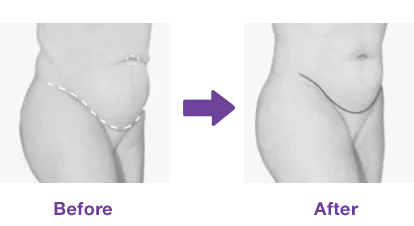 TUMMY TUCK QUICK FACTS
Surgery Time: 2-3 hours
Minimum Recovery Time: 4-6 weeks
Type of Procedure: Cosmetic, Body Contouring
Insurance Coverage: Not typically covered
Download the Complete Guide to Tummy Tucks
by Dr. Economou
Dr. Valerie Lemaine provides tummy tuck consultations and looks forward to meeting with you. For additional tummy tuck information, or to learn more about the risks, benefits, costs and other details about plastic surgery, please contact us to schedule an appointment.